7 Free Software Resources for Realtors
These free resources for realtors will help to improve your marketing, sales, and efficiency!
Modern real estate agents are required to wear a number of different hats if they expect to have a thriving business. Beyond being experts in real estate, realtors also have to juggle the need to be salespeople, marketing executives, accountants, etc. Thankfully, there are some excellent free tools for realtors that can be helpful for marketing and promotion, lead generation, time management, and more. Here are seven free tools that every realtor will love.
Budget is obviously a major part of the home buying process. Empowering your buyers to calculate in real time how much house they can afford, and play with the numbers to see what works for them can be a huge asset.
With the help of a mortgage calculator widget, realtors can make it easy for their website visitors to know exactly how much they should expect to pay on a monthly basis for any home, allowing them to make informed and educated decisions.
You can easily add a mortgage calculator to your website at no cost (and with no coding skills required) that will calculate basic, FHA, VA, and USDA mortgage payments. All you need to do is copy and paste one simple line of code into your website. The widget will then display on your website with direct links to each of the mortgage calculators so your visitors can get a precise calculation.
The mortgage calculator widget can be extremely beneficial for realtors and home buyers alike. Your visitors will appreciate the ease of use and practicality of the monthly payment breakdown. As a realtor, you'll benefit by working with clients who have already seen the breakdown to understand how much they can afford to spend on a house.
A quality video can be one of the most effective tools for marketing your listings. With Animoto, it's free and easy to create amazing videos that will help your listings to stand out. These videos can lead to more showings, more offers, and ultimately more sales.
The drag-and-drop video maker is simple to use, even if you have no experience creating videos. All you need to do is select one of their templates and upload your photos and video clips.
You can add text and music as needed, or even start from scratch without a template and create your own custom video. The video can be added to your listings, to your own website, and shared through social media.
There is a completely free plan that will include Animoto branding on your videos. If you'd like to remove the Animoto branding and get access to additional features (like stock photos, videos, and music), you can upgrade to a paid plan starting at $15 per month.
List Reports is a resource for both realtors and loan officers. While there is a cost for loan officers to utilize the service, it's 100% free for realtors.
With your free List Reports account, you'll be able to automatically and instantly generate a variety of marketing materials like brochures, flyers, property websites, neighborhood infographics, and social media content. These marketing materials can be printed or shared online.
You can generate a free marketing kit with your personalized branding for your own listings as well as for other properties that your clients might be interested in seeing.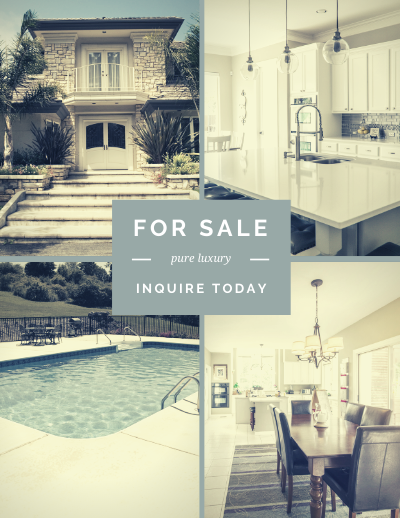 Canva is a free online design tool that makes it easy to create great-looking graphics, even if you have no design skills.
Are you looking to create beautiful flyers for your listings, but don't want to pay a graphic designer by the hour to design and print it? Canva allows you to create designs effortlessly and purchase prints within the interface.
Additionally, social networks like Facebook, Instagram, Pinterest and LinkedIn can be great for getting more exposure for your listings. Since most social networks are highly visual today, images and graphics are very important if you want to stand out.
The Canva interface is very easy to use, and what makes it even better is the massive collection of templates that are available. You'll find templates that make it easy to create beautiful images that can be shared through your social profiles. Just select a template, upload your photos, and edit the text as needed.
Canva does offer paid plans with additional features, but the free plan is more than enough to get you started and will meet the needs of most realtors.
Trello is a project management app that can be used by teams or individuals. The collaborative features will be great if you're working with a team, but it can also be extremely helpful for organizing your own time and keeping yourself focused.
With Trello, you'll be able to create boards, lists, and cards for all of your projects and tasks, and the best part is that you'll be able to manage everything visually. You can use it as an interactive to-do list that will ensure you're always staying on top of your work.
Paid plans are available, but the free plan provides everything you'll need to manage your own projects.
If you're looking for free email marketing tools, MailerLite is one of the best resources available.
MailerLite's user interface is extremely clean and logical, making it a very user-friendly system. The free plan also allows you to create landing pages, opt-in forms, pop ups, and automated email sequences. While there are other mailing list managers that also offer a free plan, the capabilities provided by MailerLite's free plan stand out from the competition.
If your list grows beyond 1,000 subscribers, MailerLite offers very reasonable pricing, starting at $15 per month.
A Final Word on Free Resources for Realtors
The free tools covered in this article can help you to run your business and ultimately make more money, without breaking the bank for costly tools and resources. Each of these tools has a lot to offer, and you can get started with any of them in a matter of minutes.